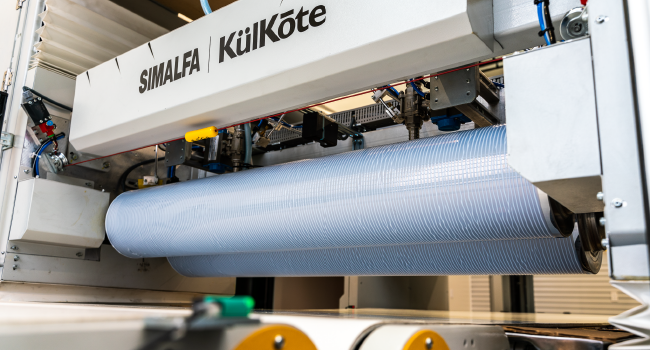 Super Fast Drying – Roll Pack IMMEDIATELY
Apply, Assemble, Pack – Why wait?
Speed, Precision, Simplicity
If you're roll packing mattresses, there's a good chance your adhesive is preventing you from doing it immediately. SIMALFA offers the fastest drying roll coating adhesives on the market without the need for expensive, energy consuming IR equipment or heat tunnels.
Applied via one sided application, our products are formulated to cure very quickly, it's not an afterthought. We can help you get to "immediately." And just to be clear – when we say immediately we're talking right now. No waiting. No staging. Apply it, assemble it, and pack it. It's that simple.
Take Control of Your Costs
Consistency, Accuracy, Sustainability
Super High Yield, Low Cost
Proprietary Management Software
If you've ever hovered over your employees trying to police the amount of glue they're spraying, then roll coating with SIMALFA will ease your mind. The benefit is simple. Apply the exact same amount of adhesive with maximum speed, every time.
The incredible instant bond allows you to minimize the amount of adhesive used which is a good thing – especially if you like saving money.
You can track your savings in real time by using our free proprietary software. SIMALFA Roll Lamination allows you to take complete control of your costs. Why find out that you used too much adhesive after building 1000 beds? You never will, when using our FREE software.
Ultimate Flexibility
Build All Foam, Foam Encased, Foam Toppers, etc.
150+ Formulations – Your Product, Tailored For Your Process
Compatible With Any Brand of Roll Machine
Don't allow your current adhesive to dictate your process. SIMALFA offers 150+ formulations giving you the flexibility to match the best product for your application and process as well as for your roll coat machine, regardless of the manufacturer.
Whether you are roll coating all foam or foam encased beds, we have a great solution to maximize your efficiency. Our roll coat adhesives can also be hand sprayed which enables you to use one product for everything in your plant. SIMALFA has the most versatile, adaptable, and sustainable line of adhesives in the mattress industry.